Food allergies can be a huge pain. Not only do you have avoid certain foods, but you have to become an expert on reading labels. Since being diagnosed with Celiac Disease, I have become obsessed with reading labels. Living a Gluten Free lifestyle means you must be absolutely certain that a food has no gluten hidden in its ingredients or it has not come in contact with other sources of gluten.  Reading labels has taught me that you have to be very careful and know what you are looking for!  Some companies are creative when they list the ingredients list in their products. For example, the other day I was at a friend's house and offered a yogurt to eat. Yogurt is USUALLY one of those foods deemed safe to eat. I ate it and within 10 minutes I began having cramps and other symptoms suggesting that I had ingested gluten. It turned out the company claims they "do not add gluten to our products; however, some of the natural flavors used to make our products may have used a grain alcohol in the extraction process." Busted!  Being Gluten Free, I'm always on the hunt for a company that provides quality, healthy gluten free products. Recently, I stumbled across an amazing company that provides amazing healthy, natural and organic products: The Healthy Shopper!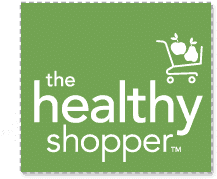 The Healthy Shopper began in 1999 as coupon source for natural and organic products in Canada. The co-founders, Andrea Donsky and Randy Boyer, were trying to live a healthier lifestyle on natural and organic products but found the cost was astronomical. As a solution, they created a coupon source that would allow Canadians to live this healthy lifestyle while saving money. In 2007, they added their money savings Canadian E-coupons to their website and rose to the #1 Coupon source for natural and organic products in CANADA. Their coupon books introduces people to new products and enable them to try things they would never have tried before using their coupon book. Many times, these introductions turn in to staples in a family's household.
They are more then just coupons! The Healthy Shopper Website includes:
Product reviews

Health and Wellness information

Recipes the whole family will love

Food and Nutritional information to guide better eating choices

A Service Directory to point out quaulified service providers

A Month e-newsletter

and of course FREE E-Coupons!
The Healthy Shopper Fall 2013 Picks

This is my first time using the healthy shopper. When the box arrived at my door, I was amazing at how many products it contained! All of them were gluten free, healthy choices.  Best of all they were all new to my household!  Here are teh Healthy Shopper picks for Fall 2013:
Hyland's Homeopathic Cold 'n Cough 4 Kids
This is a multi-symptom solution for cough and cold systems (i.e sneezing, sore throats and loosens congestion). Because its non drowsy and contains all natural active ingredients, its safe to use on children ages 2-12 without worrying about any nasty side effects.  This one came at the right time as DD2 had a pestering cough that I was afraid was going to blow into severe cold. Instead, with a few doses, she was back to her happy, healthy self!
North American Herb and Spices – Oregano oil
North American Herb and Spices are highly nourishing and naturally powerful products created from the finest fruits, herbs and spices in the world. Oregano oil is known for its many healthy benefits and therapeutic effects on the body. When this kit arrived DD2 was battling a cough, so Mommy popped a few capsules of oregano oil as its known for its ability to combat colds. We all know that Mommy's are not allowed to get sick days!
This juice is made out of 100% fruit blends. Without the added sugar, preservatives and colours, it makes it a delicious, healthy choice for the whole family. We tested the Pomegranate Cherry and Mango Orange. It was wonderful to taste the freshness and flavour of the fruit, rather than sugar, when drinking a juice box. This item is definitely on my shopping list from now on.
Pamela's Baking and Pancake Mix, Chocolate Cake Mix, and Artisan Flour Blend
Pamela's has been around for 25 years (before the gluten-free wave began!) They are known for their delicious line of  baking mixes, cookies and snack bars. They are a leader in the gluten free industry. I was very excited to see these products in my box! Most gluten free flours tend to leave a "rice" taste in your mouth whether you are eating a pancake, cake or cookie. With Pamela's products this is not true! My husband was shocked when I presented him with a muffin made with Pamela's Artisan Flour. He thought it contained gluten because it was missing the "rice" flavour! Definitely a keeper in our house!
Olympic Dairy Krema Greek Style Yogurt
This yogurt is made using only 100% natural ingredients without preservatives, gelatin or gluten. I love how thick and creamy it is! My favourite, by far, is their plan flavour with addition of my own favourite fruits and berries.
Simply Natural Organic Ketchup and Mustard
All Simply Natural products are made without preservatives, chemical additives, food colorings, irradiation or GMO ingredients. All products are created in small batches to provide delicious taste and to ensure the freshest ingredients are used. My family loves ketchup! They eat it on EVERYTHING! Normally, we purchase the one on sale at our local grocery mart. Until recently, I never read the ingredients! I was shocked to find out how much sugar was in it! When I presented them with Simply Natural Ketchup, I was worried that they would kick up a stink! As you can see from the picture, they used up half the bottle before I was able to snap a picture and I think we are now enter the realm of Ketchup-aloics! I love that the kids can still enjoy their ketchup and I can still keep their sugar intake down!
If you have never tried The Healthy Shopper, I highly recommend you give it ago! Not only does it provide you amazing new products, but it saves you tons of extra money (which we can all use this time of year!). You can pick up your online copy of The Healthy Shopper, click HERE.The Healthy Shopper coupons can be used at any store that sells the product(s) appearing in the book. Present the coupon at the time of purchase to receive a discount at its face value.
To find out more about  The Healthy Shopper connect with them on Facebook.
You can find Jenn and her crazy crew over on her blog 1Heart1Family, and connect with her on Facebook and Twitter. Jenn is a working mom to two amazing boys and one Princess. 1Heart1Family is a blog about raising children, life with celiac disease and helpful product reviews so you can find the product that's just right for you!